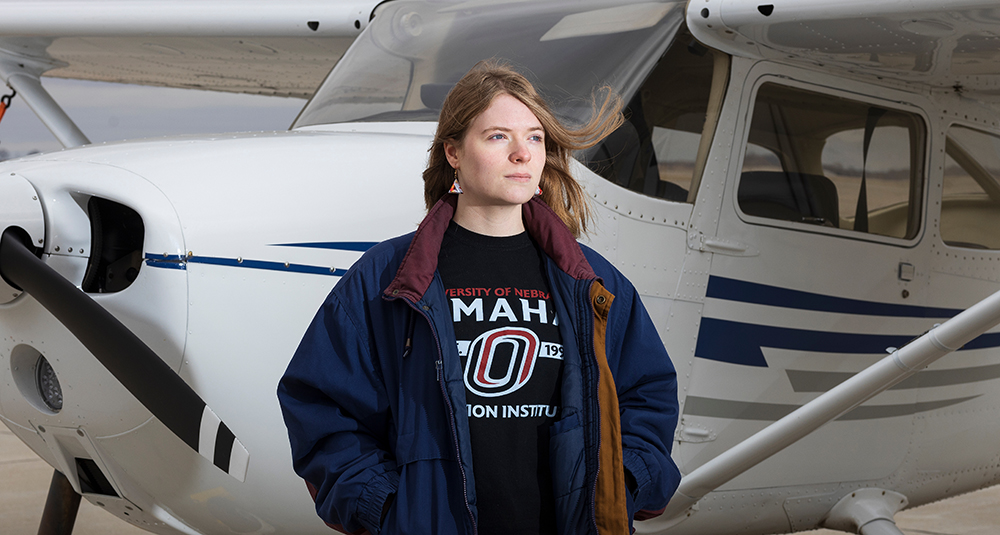 ---
GWENDOLINE DUNLOP
COLLEGE OF PUBLIC AFFAIRS AND COMMUNITY SERVICE
Aviation Major
---
The saying goes that the sky is the limit, but in the aviation and aerospace industries, the trajectory of careers for women has remained largely grounded. Becky Lutte, Ph.D., associate professor at UNO's Aviation Institute, like the many women currently in these fields, has been working to make aviation a more inclusive field for across gender lines and for other underrepresented communities.
Lutte is one of the statistically small number of women who make up just 20% of the aviation workforce. Across the industry, women only make up 2.6% of maintenance technicians, 4.6% of air transport pilots, 11.6% of aerospace engineers, and 15.6% of aviation higher education faculty according to a recent report produced by Lutte.
"There's absolutely no doubt based on multiple studies that bias, discrimination and harassment is still a deterrent is still a deterrent to our recruitment, retention, and advancement of women," Lutte said.

Those trends don't just impact veterans of the industry, they have heavy influences on the next generation as well.
"Lack of representation is a strong invisible barrier. We don't get a lot of opportunities to see other women in aviation in our area, and it can feel isolating," UNO aviation student Gwendoline Dunlop, president of UNO's Women in Aviation chapter, said. "I often feel like I'm somehow representing all women when I am the only one in the class."
Lutte said one of the several obstacles preventing women from entering and staying in the aviation or aerospace industries is a culture that lacks flexible scheduling and family-friendly policies that disproportionately affect women. Other hurdles include outright discrimination.
In response, she has dedicated herself to researching the recruitment and retention of women in aviation and serves as an advocate for greater representation in the field.
"It's been my great honor to be able to help bring light some of this data, because as we say, 'what gets measured gets done,' and you can't fix what you don't see," Lutte said. "If we're not measuring it and putting that information out there, we're not going to be able to move the needle on those numbers, and we know we need to change culture."
Beyond research, Lutte is continuing her work as an advocate. Since 2020, Lutte has served on the Women in Aviation Advisory Board (WIAAB), which presented recommendations and strategies to encourage women to enter the aviation field to the Federal Aviation Administration (FAA) and Congress.
At UNO, Lutte has been an advocate for expanding diversity – ensuring that more students with diverse backgrounds can feel confident in pursuing an education in aviation.
"We're trying to help create communities of support for underrepresented groups in aviation and continue to support our students to find that place where you're not the 'only'," Lutte said. "UNO has been fantastic about providing support."
This includes encouraging groups like UNO's Women in Aviation chapter, as well as the Organization of Black Aerospace Professionals, so that students of different backgrounds can have communities to support them.
"These organizations do so much for us. It helps bring together the few women in the program and make stronger connections," Dunlop said. "Women in Aviation is open to people of all genders, so the men who join us help bridge the social gap."

Among the support provided to students by UNO's Women in Aviation chapter includes support for attendance at the Women in Aviation International conference, which allows for networking with professionals, as well as identifying opportunities to apply for national scholarships.
"Belonging to an organization like this as a student gives a very good head start to a career in aviation," Dunlop said.
To continue reaching out to women and other minorities in the field, the Women in Aviation chapter also hosts an annual Girls in Aviation Day, specifically aimed at girls in middle and elementary school.
"Numerous outreach programs have been implemented to try to reach females earlier," said Michaela Lucas, associate director of the NASA Nebraska Space Grant, which supports engagement in research, education, and public service programs related to aeronautics, space sciences, and technology across the state. "This event takes place through Women in Aviation Chapters all over the country and the world to introduce girls to the exciting careers aviation has to offer."
On top of initiatives to diversify the field and support underrepresented communities, it is also important for those who make up the majority of the aviation industry to be allies to underrepresented groups.
"When you have strong support and strong male allies and mentors, which I certainly have, that is also really helpful for the overall culture and creates just a better environment," Lutte said.
The work for more equity and inclusion for women and other groups in the aviation field is far from over. However, with people who are committed to understanding and overcoming representation on all fronts, the aviation industry can become more equitable and inclusive to everyone who wishes to participate.
"I have such a passion for this field, and women in aviation face certain barriers to entry in this field, even in terms of retention and advancement," Lutte said. "So, for me to have any kind of voice in that conversation to help not only identify those barriers but make recommendations to address those barriers is incredibly rewarding."