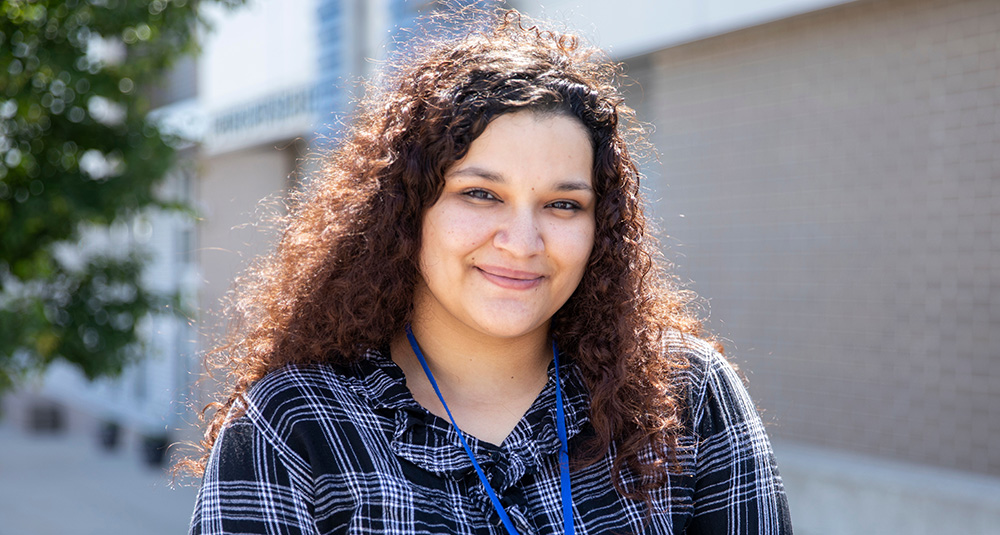 ---
MARIYAH JACKSON
COLLEGE OF PUBLIC AFFAIRS AND COMMUNITY SERVICE
Social Work Major
---
Practicum students within UNO's Grace Abbott School of Social Work have played a key role in helping a local homeless shelter continue serving clients during the COVID-19 pandemic.
The Stephen Center, located in south Omaha, offers emergency shelter, an addiction recovery program, and permanent supportive housing for individuals and families facing homelessness, addiction, and poverty.
The COVID-19 pandemic brought changes to how the Stephen Center operates. Masks and temperature checks have become the norm. Face-to-face interactions with staff are commonly facilitated through virtual means.
While some shelter procedures have changed, the community's need for assistance has remained. Dawn Olijnek, development director for the Stephen Center, said that some of those seeking assistance in the past year are doing so for the first time due to job loss, evictions, or other unexpected events. This need has led to space limitations as areas previously reserved for overflow are utilized to maintain physical distancing. "Due to COVID, we want to limit the number of people living in congregate living, which necessitates some creativity to provide case management and continue intaking new people," Olijnek said.
The Stephen Center adapted to continue providing services safely with the help of practicum students from UNO's Grace Abbott School of Social Work. Continuing more than five years of partnership between UNO and the Stephen Center, several students have been working with clients at the shelter during the Spring 2021 semester. "For us, as a homeless shelter, our students are kind of a lifeline here," Olijnek said. "We rely on volunteers and want to provide those professional experiences to the students who come here."
"Without them, we couldn't do what we do."

Mariyah Jackson, a senior studying social work and minoring in criminal justice, had some concerns about completing her practicum experience prior to being placed at the Stephen Center. Would she be able to complete her experience where she wanted? How would she fulfill requirements for hours of direct contact with clients?
Ultimately, she found she had no reason to be concerned. By working with practicum specialists within UNO's Grace Abbott School of Social Work and the Stephen Center staff, she was able to find the experience she wanted while also meeting the requirements she needed to fulfill. "I actually get more direct contact [with clients] than indirect contact," she said.
She works with clients directly and indirectly throughout their time at the Stephen Center. Jackson meets with those new to the center to discuss their history, background information, and services needed when they first arrive at the shelter. Following this intake process, she continues to meet with people weekly to discuss their goals and their progress toward these goals.
For some clients, their goal might be to secure more permanent housing or to get the proper paperwork they need. "For other clients it might be that they have a lot of health problems, but they don't have any current insurance although they qualify. We might help them get whatever insurance they qualify for, let them get that situated, and then move on to other housing goals," Jackson said.
The experience has given Jackson a look at what it's like to work in the field and where she can grow personally, professionally, and even emotionally. "Some of the situations I've seen, the people that we work with who come in, it's just really sad and I kind of have to remember that, in order to help somebody, I have to be able to help myself, too," she said. "Sometimes they might be in the worst situation, but they're always willing to work on themselves and work toward their goals, so it's really inspiring."

Jackson will continue working with the Stephen Center until she graduates in August 2021. Following graduation, she plans to work with people who are currently or have recently been incarcerated.