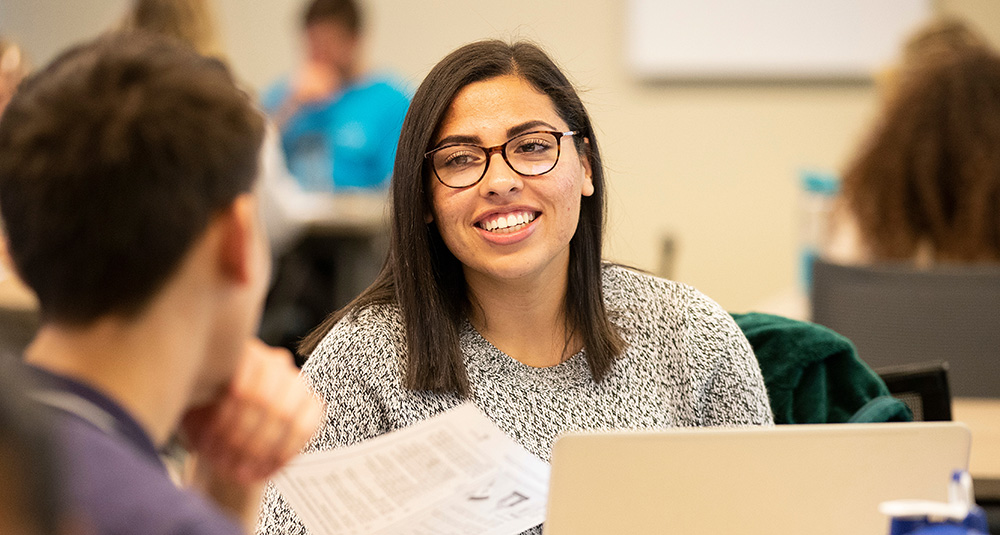 ---
VANESSA CHAVEZ JURADO
COLLEGE OF EDUCATION, HEALTH, AND HUMAN SCIENCES
Elementary Education Major
---
The Goodrich Scholarship Program at the University of Nebraska at Omaha traces its origins to 1972 with one question: "What could students from low-income backgrounds achieve if economic barriers were removed, they received close personal contact with faculty, and experienced a stimulating teaching-learning atmosphere?"
Nearly 50 years later, the answer is found in each of the program's 1,900 alumni who graduated from the program and went on to become business leaders, educators, medical professionals, elected officials and others having a positive impact on the state.
Today, UNO as a whole has internalized the Goodrich philosophy, that access to exceptional learning opportunities can transform lives, including service learning, a tailored curriculum, internships and more.
Developed by former College of Public Affairs and Community Service Dean Hubert Locke and named for Nebraska State Sen. Glenn Goodrich, who introduced the legislation, the program was hailed as an "unparalleled opportunity" to "get economically deprived young people in and through UNO."
Elizabeth Hruska, a fiscal analyst for the Nebraska Legislature, was a member of the first cohort of Goodrich Scholars.
"The funding for the program was provided to equalize state support for UNO which had not been part of the University of Nebraska System for very many years," Hruska said. "I remember that Goodrich was described as an experiment. Rather than just providing additional scholarships, the program was built to provide the financial aid along with a community of supports to help students succeed."
As a part of the program, Hruska and her peers received specialized support from dedicated faculty and experiences that included a trip to Washington, D.C., where students took tours of federal buildings and met with then-Nebraska Congressman John Y. McCollister. The extra attention and experiences didn't slow down her academic journey – it put her ahead of schedule.
"I would have had to work several years before attending college and may not have been able to attend full time," Hruska said. "I think a strength of the program is the diversity of the faculty and staff. It provided for a richer college experience."
The "experiment" that began nearly 50 years ago and that is sustained by state funding is a resounding success, boasting a nearly 80% six-year graduation rate for its 2015 cohort – far exceeding the 62% national six-year graduation rate of first-time, full-time undergraduate students.
Today's "Goodrichers" represent rural and urban backgrounds, a wide variety of majors and career aspirations, and racial and ethnic diversity. Each student is a Nebraska resident who began their academic career at UNO with fewer than 32 college credits. More than 70% of students are first-generation.
Vanessa Chavez Jurado, a junior elementary education major from Millard, NE, is one of the thousands of first-generation students at UNO.
While she chose to pursue a college degree as a Maverick for the same reasons many from the Omaha metro area do – affordability, proximity to family, and exceptional educational experiences – she found her voice through the Goodrich program.
The hands-on mentorship from faculty and relationships she built with her peers opened doors in the first-generation student community and motivated her to take on a role as student body vice president for the 2020-2021 academic year.
"As a first-generation college student, beginning this journey alongside peers who were going through a similar experience reassured me that I was going to thrive," she said. "Goodrich has instilled in me the confidence to get involved on campus and seek leadership positions such as those I have held in Student Government."
While her ultimate career goal is to serve as U.S. Secretary of Education, after graduation, she looks forward to staying in Omaha and teaching. She encourages others to use the Goodrich program as the launchpad for their dreams.

"The great thing about Goodrich is that it is much more than just financial support," Chavez Jurado said. "To be a Goodricher also means being welcomed into a community of faculty, staff, and students who are there for you and want to see you succeed. Having the chance to take courses with Goodrich faculty and other Goodrichers is an opportunity I hope no one passes up."
Additional information on the Goodrich Program at UNO as well as how UNO continues to provide Nebraskans with access to opportunities can be found at impact.unomaha.edu.